A guided tour of the Stoy Museum begins with a stroll through several early shops and offices. Throughout the museum, visitors will find fine examples of Pennsylvania German craftsmanship in such items as furniture, quilting and weaving, fraktur, and redware. Young and old enjoy browsing in the one-room schoolhouse and the toy shop before experiencing a turn-of-the century general store, stocked with everything from cookie cutters to kerosene lamps. Community industries such as carpentry, weaving, printing, firefighting, law enforcement and mining are exhibited as they were found throughout the area many years ago.
Did you know?
The original front portion of the Stoy Museum was built in the 1780's as a home for Dr. William Henry Stoy, a local minister and prominent Revolutionary War doctor.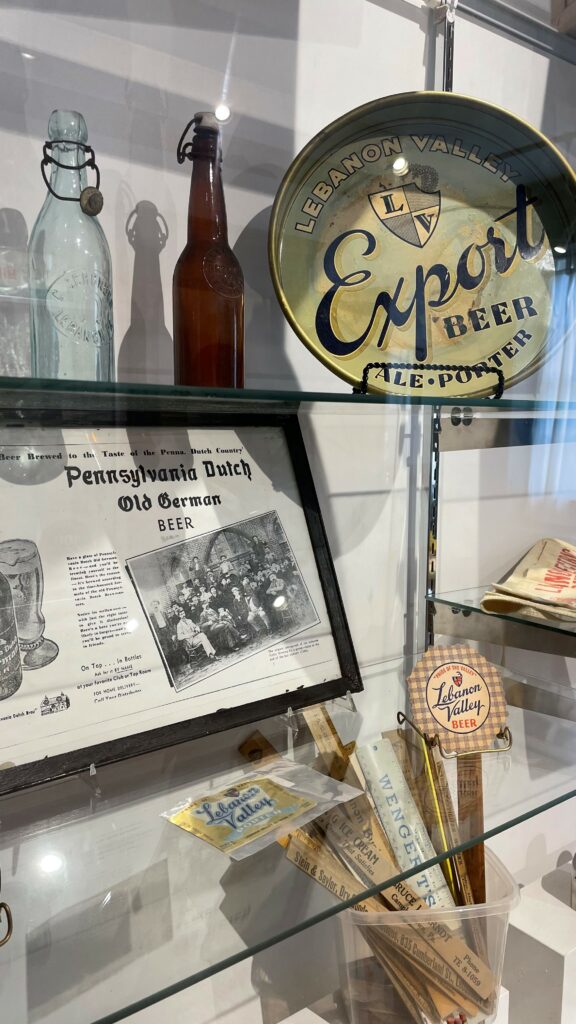 Now Featuring Advertising Media
If you would enjoy a trip down Lebanon County's "Memory Lane of Old Lebanon Businesses" please stop by the Lebanon County Historical Society's front parlor display. In it we have all sorts of advertising items from local county businesses, such as Haak's Dept. Store, The Bon Ton, The Karamel Corn Shop and many others. Admittance to this display is free.
This temporary exhibit is located in the front parlor by the main entrance and is available to the public for free during our open hours.
Tours
Tours of the Stoy Museum are only guided. Please allow an hour and a half for a complete tour of the museum.
Tours are given every Saturday at 11am or by appointment. Before visiting the Society for a tour, we ask that you contact us in advance to make an appointment. Please contact the Society Office at 717-272-1473 or office@lchsociety.org to schedule your tour.
Please note that the Society building is not handicap-accessible due to the age of the building. We regret any inconvenience this may cause. Street, metered parking is available in front of the Society building, and free-two hour parking is available at the Farmer's Market parking lot off of 9th Street and Cumberland.
Tour Fees
Society Members: Free
Students (6-17):  $3.00
Adults (18-64): $6.00
Seniors (65+): $5.00
Exhibits
Each exhibit provides insight into the lives of the men and women who built our strong nation. Our perennial exhibits include:
The Barber Shop
The Dress Shop
The General Store
Gollam's Ice Cream
Perseverance Band
The Pharmacy
The Schoolhouse
The Toy Shop
Victorian Parlor
Civil War Exhibit
Donations
We appreciate donations in any amount. The Lebanon County Historical Society Incorporated is registered as a charitable organization with the Commonwealth of Pennsylvania. A copy of the official registration and financial information may be obtained from the Pennsylvania Department of State by calling toll-free within Pennsylvania, 800-732-0999.
Monetary Donations: visit our Donation Page
Artifacts (clothing, tools, etc.): email office@lchsociety.org
Archives (paper and pictures): email registrar@lchsociety.org